A Critical Analysis of the Term Barbaric Cultural Practices through An Examination of the S-7 Zero Tolerance for Barbaric Cultural Practices Act and the Harper Conservatives' Discourses
Abstract
In 2014, Canada's Conservative government introduced the Zero Tolerance for Barbaric Cultural Practices Act (Bill S-7), with the aim to protect Canadian women and girls, especially Brown and Muslim women, against gendered-based violence that uses culture as an excuse. However, in the context of the war on terror and anti-Muslim discourses during the Harper years, the title of Bill S-7 appears contradictory to its intended goal. The Conservative government engaged in activities that appear to ignore the interests of women, especially minority women in Canada (Olwan 2013). Through a critical discourse analysis of Conservative Ministers' Parliamentary hansards during the debates for Bill S-7, this paper finds that the conservatives' mobilization of the term barbaric cultural practices has three functions: Bill S-7 sends a strong message that Canada will not tolerate barbaric cultural practices; the Government has a responsibility to pursue a humanitarian immigration system; Bill S-7 would protect all women and girls from gendered-based violence that uses culture as an excuse. Using Sara Farris' femonationalism framework, this paper argues that Bill S-7's three functions advance Conservatives' nationalist and neoliberal interests through the enforcement of a type of "patriotic neoliberal citizenship," which promotes Canadian values as militarism, close ties with the British Crown, and economic independence over multiculturalism, among others (Abu-Laban 2018).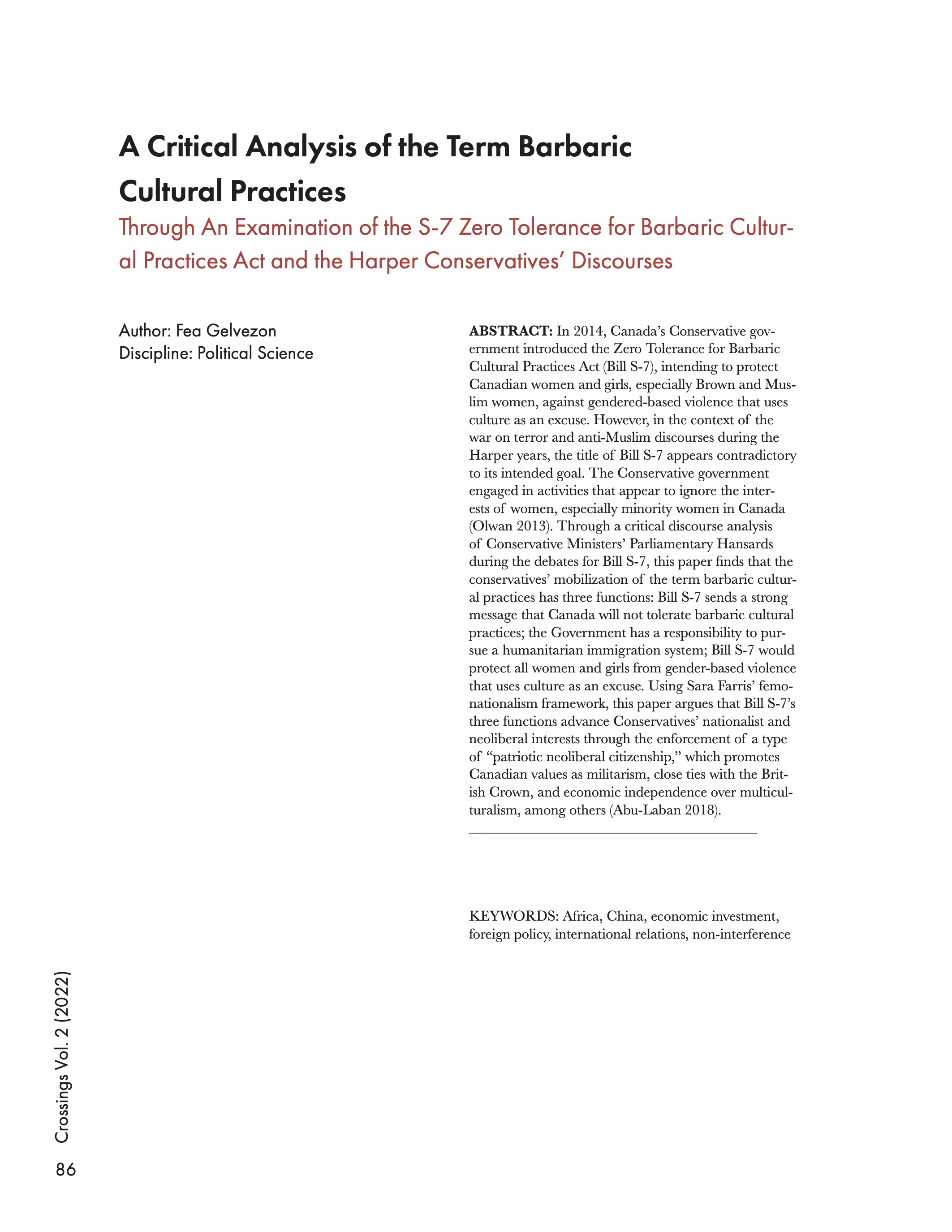 Downloads
License
Copyright (c) 2022 Fea Gelvezon
This work is licensed under a Creative Commons Attribution 4.0 International License.