A Regency Possessed
Passion, Disorder, and Anne of Austria in the Mazarinades, 1648-52
Keywords:
Anne Queen Consort of Louis XIII, Anne of Austria, 17th Century French Literature, Regents (Sovereigns), Mazarinades
Abstract
During the French Fronde of 1648-52, the absolute monarchy of France came under attack both by weapons and by words.  A relaxation in censorship laws during the four-year period of unrest led to the production of thousands of pamphlets, known as Mazarinades, which discussed the nature of the French monarchy and of power.  Although most focussed on the Prime Minister, Cardinal Mazarin, a subset also considered the role of the Queen Dowager and Regent, Anne of Austria.  Factions both for and against the monarchy expressed a fear of her public role in government: as a female ruler, they worried that Anne would be too passionate and gullible to be able to govern fairly.  Pamphleteers presented her as a disordering figure, one who turned the natural social hierarchies of the early modern era upside down. To some, she was a puppet for Mazarin, who they believed seduced her; to others, by acting as regent she neglected her quintessentially feminine maternal roles.  All agreed that Anne was unsuitable as regent.  Using a variety of literary techniques, Mazarinade authors ultimately demanded that she resign, pleading with Anne to return to the private, domestic world of women.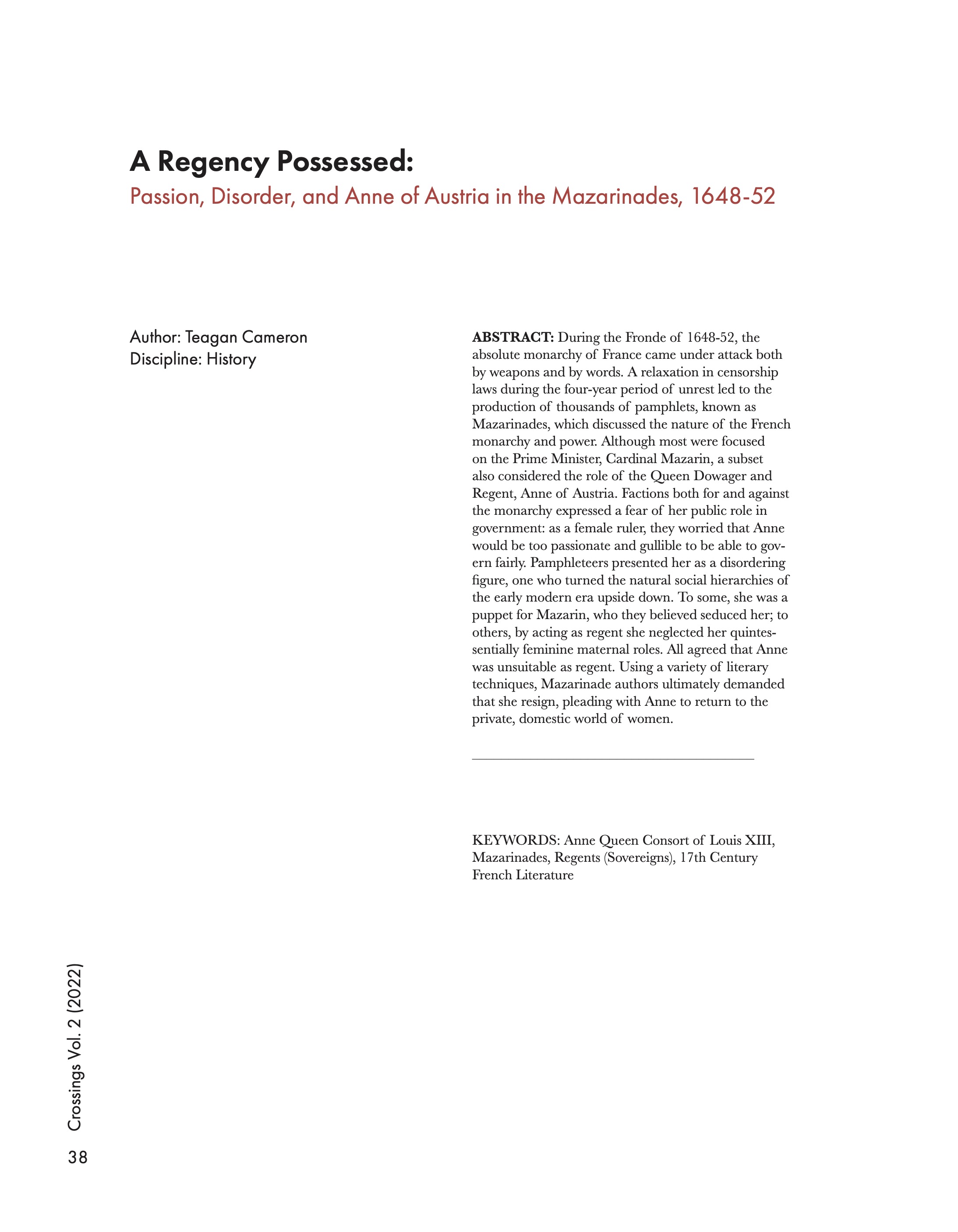 Downloads
License
Copyright (c) 2022 Teagan Cameron
This work is licensed under a Creative Commons Attribution 4.0 International License.